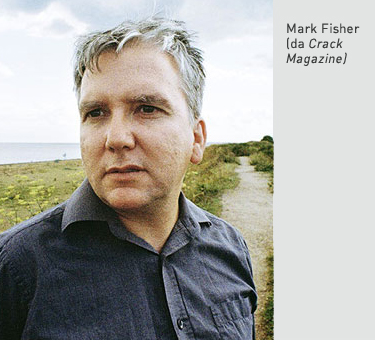 In questa intervista concessa in esclusiva per
Quaderni d'Altri Tempi
, il critico letterario e cinematografico, studioso di teoria culturale e politica e blogger Mark Fisher approfondisce alcuni dei temi principali del suo
Ghosts of My Life
, indagine sui futuri perduti di cui in questo numero presentiamo un estratto in traduzione italiana. In particolare, in questo scambio, l'autore ricostruisce per noi la genesi concettuale del suo ultimo saggio, sottolineando il perché del suo interesse per la cultura pop, raccontandoci il suo incontro con la musica spettrale di The Caretaker e Burial (cui sono dedicate sezioni del libro), discutendo la febbre d'archivio contemporanea e proponendoci una sua personale declinazione del vecchio adagio "il personale è politico".
In Ghosts of My Life, uscito lo scorso giugno, ti proponi di indagare una particolare "struttura" che caratterizzerebbe la nostra esperienza quotidiana della cultura nel XXI secolo – ovvero il ritorno continuo del già noto, sintomo della lenta ma inesorabile sparizione – negli ultimi trent'anni – dell'afflato verso il futuro. Qual è il filo rosso che lega Ghosts of My Life al tuo precedente libro (2009) Capitalist Realism. Is There No Alternative?(www.quadernidaltritempi.eu/ancore06)?
In realtà, sebbene siano usciti a vari anni di distanza l'uno dall'altro, questi due libri possono essere pensati come due testi nati in parallelo piuttosto che in successione. Infatti Ghosts Of My Life raccoglie una serie di scritture non inedite uscite originariamente prima del 2009, e inoltre i due libri affrontano la stessa questione da due angolazioni differenti. Per dirla in maniera semplice, in Capitalist Realism c'era il tentativo di descrivere alcuni degli effetti derivanti dall'idea che non vi sia alternativa al capitalismo, come la chiusura degli spazi d'intervento culturale e politico. Ghosts Of My Life invece è incentrato sulla persistenza di possibilità alternative anche nella fase del collasso, della resa e dell'esaurimento. Fredric Jameson ha affermato che il postmodernismo sia la logica culturale del tardo capitalismo, e io credo che alcune delle caratteristiche che Jameson attribuiva alla cultura postmoderna – ed in particolare la tendenza al pastiche e alla retrospezione – si siano intensificate e abbiano proliferato nel tempo al punto tale da essere diventate, oggi, le modalità dominanti della cultura contemporanea. In Capitalist Realism ho provato a descrivere questa paralisi partendo da un'analisi del film Children of Men di Alfonso Cuarón, che io ho letto come paradigmatico del fenomeno della sparizione del nuovo. Ghosts Of My Life è totalmente incentrato su questa sparizione e la domanda di fondo è: perché, a dispetto di tutti i profondi cambiamenti tecnologici del XXI secolo soltanto una minima parte della cultura contemporanea ci trasmette un senso di "nuovo"? Un po' alla volta, ci siamo abituati a questo appiattimento; ma per me questa rimane una cosa alla quale non riesco ad adattarmi serenamente – e Ghosts Of My Life, sotto vari punti di vista, è emerso proprio da questa mia incapacità di adattamento.
In Capitalist Realism sottolineavi in più punti l'importanza di restituire alla cultura pop(olare) la sua dimensione politica. Ma mentre in quel testo ti concentravi molto sull'analisi delle linee portanti di alcuni dispositivi/pratiche (l'attivismo politico, la salute mentale, il lavoro, l'università), è in questo ultimo studio che davvero il tuo focus è più decisamente puntato sulla cultura pop degli ultimi trent'anni. Il libro infatti raccoglie una serie di "casi studio", che vanno dalla musica al cinema, alle serie televisive, alla letteratura. Mi ha colpito molto una definizione della cultura popolare che tu dai – "popolare senza essere populista". Puoi spiegarla nel dettaglio?
Dicendo "populista" mi riferisco semplicemente a ciò che attrae e/o è programmaticamente orientato verso un gusto e dei desideri già esistenti. La cultura però può anche sfidare le preferenze e le premesse dominanti, pur rimanendo assolutamente popolare, assolutamente pop. La cultura che mi ha formato (serie TV sperimentali, cinema, musica elettronica da ballo, il post-punk) era proprio così.
Come è noto, Theodor Adorno condannava senza riserve la musica 'pop', ma invece io non credo che il concetto di pop(olare) sia un concetto chiuso: quando si creano le condizioni necessarie, praticamente ogni cosa può essere pop.
Eppure molte energie sono state spese affinché noi ci dimenticassimo di questa cosa una volta per tutte: in un certo senso, questa è l'epoca del populismo non popolare.
Una figura come quella di Tony Blair è emblematica di tutto questo: è una figura totalmente modellata sui gusti ben noti del popolo, eppure non è riuscito a mobilitare il consenso derivato da questo suo corrispondere ai gusti del popolo a favore di nessuna causa se non quella di inseguire proprio una popolarità fine a stessa, con la conseguenza a lungo termine d'essersi invece piuttosto attirato un odio generalizzato. Oppure pensiamo un attimo ai reality show per la Tv, che sono enormemente popolari, hanno un seguito straordinario, ma sono pure assai disprezzati – e la maggior parte di quelli che li odiano con più accanimento poi ogni settimana si sintonizza per guardali.
Di contro, pensiamo ai film di Stanley Kubrick o di Michelangelo Antonioni, o alla musica pop elettronica, o a quei television plays così strani come quelli che scriveva David Rudkin in Inghilterra (autore di visionari lavori per ATV e BBC, tra cui The Stone Dance del 1963 e Penda's Fen del 1974, ndr): insomma, era una cultura che puntava sull'intelligenza e la complessità del proprio pubblico, che funzionava rispondendo quasi ad un'etica del dono – nel senso che non dava alla gente quello che la gente voleva, bensì provocava e produceva desideri che la gente non sapeva nemmeno di avere. L'importanza politica di tutto questo sta nel fatto che una cultura che ostinatamente ripete motivi e contenuti populisti triti e ritriti funziona implicitamente come una sorta di propaganda per l'idea che nulla possa mai più cambiare.
E non dobbiamo dimenticarci quanto questo sia importante dal punto di vista della classe; c'è una dimensione di classe in tutto ciò. Una cultura che sia popolare senza essere populista può sfondare le linee di classe esistenti, laddove il populismo non fa che meramente confermare e proteggere i confini di una struttura classista. Molti dei momenti culturali evocati e compianti in
Ghosts Of My Life
ebbero luogo proprio in conseguenza del fatto che persone della
working class
erano riuscite, almeno in parte, a sfuggire al loro background di origine, afferrando e impadronendosi dei mezzi della produzione culturale che forgiavano i sogni e l'immaginazione collettivi. Mi sono reso sempre più conto, con il tempo, che l'infrastruttura che aveva permesso questi sviluppi, almeno per quanto riguarda il Regno Unito, era quell'apparato di stampo socio-democratico in cui rientravano varie misure, come i sussidi per la casa, i sussidi di disoccupazione, la sanità pubblica, le borse di studio – tutti sviluppi, questi, che liberavano il tempo; lo liberavano specialmente per la gente della
working class
, che poteva immergersi, in questo tempo liberato, nella produzione culturale. Quella che oggi chiamiamo precarietà è in fondo in larga parte un calmiere applicato a questo tipo di misure, una riduzione massiccia, che espone nuovamente la
working class
a condizioni di insicurezza permanente. Con l'emergere del realismo capitalista, questo apparato complesso è andato in mille pezzi. In un certo senso, oggi, mi interessano meno i potenziali effetti politici della cultura che i modi in cui gli sviluppi politici incidono sulle possibilità di produzione culturale. Rovesciare il neoliberismo significherà allora occupare nuovamente quelle istituzioni su cui i neoliberisti hanno preso il controllo; significherà introdurre misure che aumentino la sicurezza sociale. Uno dei grandi miti del neoliberismo è che l'insicurezza produca creatività; bene, io credo veramente che l'ultimo decennio smentisca pienamente questa posizione.