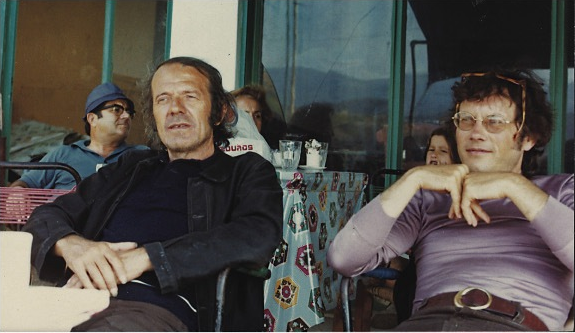 Moneta, rivoluzione e accelerazione nell'Anti-Edipo di Deleuze e Guattari
.............................................................................................
.............................................................................................
Tratto da «Moneta, rivoluzione e filosofia dell'avvenire. Nietzsche e la politica accelerazionista in Deleuze, Foucault, Guattari, Klossowski»
1.1.
Cuore di tenebra
o
locus classicus
dell'accelerazionismo?
Proseguiamo con questo saggio la nostra ricerca su una delle fonti primarie dell'accelerazionismo: l'intera parte finale del paragrafo
La macchina capitalistica civilizzata
(AE, 271-72). Le letture simultanee del saggio di
Christian Kerslake
Marxism and Money in Deleuze and Guattari's
Capitalism and Schizofrenia
(Parrhesia, n. 22, 2015) e delle note di
Matteo Pasquinelli
Code Surplus Value and the Augmented Intellect
(M.P. blog, 2014) ci hanno segnalato la persistenza di un nucleo di problemi riguardanti l'interpretazione di uno dei passi più significativi e cruciali dell'
Anti-Edipo
di Deleuze e Guattari. Il primo scopo del saggio sarà dunque la ricerca del significato più profondo dell'intero passo e il chiarimento della sua oscillazione tra le due polarità di moneta e rivoluzione. Il secondo scopo di questo saggio è la segnalazione di una
conventio ad excludendum
nei confronti di Friedrich Nietzsche da parte dell'accelerazionismo contemporaneo. Nel testo antologico «fondativo» dell'accelerazionismo,
#Accelerate
curato da
Robin Mackay e Armen Avanessian
(Urbanomic, 2014), fin dalle prime pagine notiamo un vuoto assordante, un silenzio rumoroso, una sanzione felpata nei confronti di Nietzsche. Nella scelta dei testi
anticipatori
del contesto accelerazionista, molto accurata, troviamo Marx, Butler, Fedorov e Veblen (#A, 8-11), ma nemmeno un testo dal
Nietzsche
post-Zarathustra, né dai
Frammenti Postumi
, né dal «cannoneggiamento» gemello di
Al di là del bene e del male
e di
Genealogia della morale.
Nella cronologia (#A, 3) inserita come
memento
significativo della progressione del pensiero sul tema
accelerazione e macchina
, tra il 1858 del
Marx
del
Frammento sulle macchine
e il 1970 di Firestone difetta proprio il 1887 del frammento «accelerazionista» di Nietzsche
, I forti dell'avvenire
. Uno degli obiettivi del presente testo è la giusta collocazione di Nietzsche e del suo pensiero all'interno dell'accelerazionismo e del pensiero di Deleuze e Guattari, in particolare nell'
Anti-Edipo
. Il filosofo di Röcken non ha forse parlato, in modo essenziale, di
macchina totale
, di
solidarietà di tutte le ruote
, di
accelerare il processo
? Si tratta, forse, di una peculiare difesa da parte degli estensori di #
Accelerate
,
per non scorgere la tetraggine strisciante e la mostruosità sinistra che ci si para innanzi alla società
moloch
paventata da Nietzsche?
Matteo Pasquinelli segnala in modo del tutto corretto l'epilogo di
La macchina capitalistica civilizzata
- noto come il passaggio della «via rivoluzionaria» oppure dell'«accelerare il processo» - come il
locus classicus
dell'accelerazionismo per lo spessore che gli interrogativi di
Deleuze e Guattari
pongono; ma le risposte a quelle domande non sono ancora state individuate, e dunque rimangono sospese. Esse riguardano la strategia delle lotte rivoluzionarie, la vettorialità del capitalismo nichilista e le possibili vie d'uscita rispetto a una situazione politica, economica e sociale che segna la ruvida e deludente figura del
cul de sac.
Riportiamo ora il testo oggetto della presente indagine:
"
Solo dunque a livello di una teoria generalizzata dei flussi si può rispondere alla domanda: come si giunge a desiderare la potenza, ma anche la propria impotenza? Come un tal campo sociale ha potuto essere investito dal desiderio? E come il desiderio supera l'interesse oggettivo, quando si tratta di flussi da far scorrere o da tagliare! Certo, i marxisti ricordano che la formazione della moneta come rapporto specifico nel capitalismo dipende dal modo di produzione che fa dell'economia una economia monetaria. Rimane il fatto che il movimento oggettivo apparente del capitale, che non è per nulla un misconoscimento o un'illusione della coscienza, mostra che l'essenza stessa produttiva del capitalismo non può funzionare se non in questa forma necessariamente commerciale o monetaria che la governa, e i cui flussi e i rapporti reciproci contengono il segreto dell'investimento di desiderio. L'integrazione del desiderio avviene infatti a livello dei flussi, e dei flussi monetari, non a livello dell'ideologia. Quale soluzione allora? Quale via rivoluzionaria? La psicanalisi è di scarso aiuto, nei suoi rapporti più intimi col danaro, essa che registra, guardandosi bene dal riconoscerlo, tutto un sistema di dipendenze economico-monetarie nel cuore del
desiderio
di ogni soggetto che tratta, e che costituisce per suo conto una gigantesca impresa di assorbimento di plusvalore.
Ma quale via rivoluzionaria, ce n'é forse una? Ritirarsi dal mercato mondiale come consiglia Samir Amin ai paesi del Terzo Mondo, in un curioso rinnovamento della «soluzione economica» fascista? Oppure andare in senso contrario? Cioè andare ancora più lontano nel movimento del mercato, della decodificazione e della deterritorializzazione? Forse, infatti, i flussi non sono ancora deterritorializzati, abbastanza decodificati, dal punto di vista di una teoria e di una pratica dei flussi ad alto tenore schizofrenico. Non ritirarsi dal processo, ma andare più lontano, «accelerare il processo», come diceva Nietzsche: in verità, su questo capitolo, non abbiamo ancora visto nulla."
(AE, 271-72)