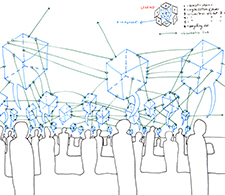 AMODERN 2: NETWORK ARCHAEOLOGY
Networks have structured our social – and media – development long before the emergence of the "network society." [1] From the letter-writing networks of the proto-Italian aristocracy to the electrical networks that facilitated industrialization; from the spread of woodcuts, pamphlets, and ballads that supported the Protestant Reformation to the twentieth century emergence of broadcast radio and television networks, media have always been situated in the matrices of networks of circulation and distribution, facilitating historically specific modes of connection. [2] These histories often remain disconnected from research on digital networks, the latest to re-shape our socio-technical environment into a mesh of interconnecting nodes. An archaeological approach, one that routes between contemporary and historical networks, Alan Liu argues, has the potential to regenerate a sense of history that would temper the presentism of digital culture, all too often experienced as instantaneous and simultaneous. [3]
This special issue of Amodern features original research, initially presented in 2012 at the Network Archaeology conference at Miami University of Ohio, on the histories of networks, the discrete connections that they articulate, and the circulatory forms of data, information, and socio-cultural resources that they enable. Drawing from the field of media archaeology, we conceptualize network archaeology as a call to investigate networks past and present – using current networks to catalyze new directions for historical inquiry and drawing upon historical cases to inform our understanding of today's networked culture. [4] In this introduction, we elaborate how network archaeology opens up promising areas for critical investigation, new objects of study, and prospective sites for collaboration within the productively discordant approach of media archaeology.
First, network archaeology encourages the interrogation of the temporality of networked culture and media. Networks are often seen as synchronic rather than diachronic structures; as in much research on digital media, the emphasis of network studies has often been on the "new" and the "now." Scholars have argued that networking perpetuates processes of acceleration – a speeding up and flattening of historical time. How might we instead understand the network itself as a historical structure, one conditioned by the possibilities of different periods? Are there ways to describe the differential temporal effects of networks – their ability to decelerate as well as accelerate, to ebb as well as flow? The essays included here examine the diverse temporalities of network culture, multiplying our understanding of network pasts and presents.
Second, by replacing "media" with "network" in our approach, we call attention to the definition of the object or phenomenon that is being excavated. How has media archaeology's focus on media rather than "network," "system," or any other term, affected the composition of that field of study? A focus on network archaeology would orient us toward a different set of questions. For example, what does it mean to excavate a connection? Might network archaeology help to historicize processes that leave no traces or artifacts, or bring new kinds of traces and artifacts into view? Network archaeology also points to media's relationship with other networked systems, including the electrical grid and transport network, and suggests new objects for media studies, such as the architecture of public parks, the telephone pole, the tunnel and the list.
Third, an attention to the specificity of "network" in media archaeological discourse reveals the ways in which networks have already structured the archaeological approach, both rhetorically and practically. Network archaeology therefore not only concerns the archaeological examination of networks but also what Liu refers to as the "networked structure of media archaeology itself." [5]
Fourth, we hope that by posing these questions, the concept of network archaeology can foster a new set of potential collaborations – linking media archaeologists to historians of networked technology and to network theorists. It suggests new, non-media-related archives as sites for media studies inquiry, such as the archives of public works projects or other infrastructure systems, and new methods for mapping and arranging the contents of these archives. (...) Read more in PDF